Features
The tungsten cemented carbide rollers have high hardness, and its hardness changes very little with temperature changes. The hardness at 700 °C is 4 times that of high-speed steel; and the elastic modulus, compressive strength, flexural strength, and thermal conductivity are also over 1 time higher than tool steel.

Since the thermal conductivity of the tungsten cemented carbide roll is high, the heat dissipation effect is good, and the time at which the surface of the roll is at a high temperature is short so that the high-temperature reaction time between the roll and the harmful impurities in the cooling water is short. Therefore, the tungsten cemented carbide roll is more resistant to corrosion and cold and hot fatigue than the tool steel roll.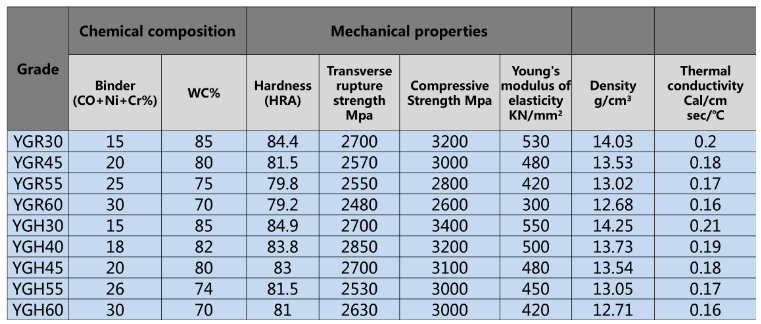 Application:

Tungsten Carbide rollers are widely used in metal forming, especially in hot rolling industry mainly for intermediate and last finishing stands to ensuring superior surface finish and dimensional stability of processed metal products. Rolls are also commonly used for wire flattening, de-scaling and straightening applications.

Tungsten carbide roller used on the stretch reducing mill for bars, thread steel bars and common wire with the durability 10 to 20 times higher compared to common steel roller. The surface quality and the steel bar size accuracy are greatly improved. The cemented carbide roller reduces effectively the production cost and improves the quality. Roller for Profile Wire Rolling, Flat Wire Rolling, Construction Wire Rolling, Plain Wire Rolling and Welding Wire Rolling, Wire Straightening, Wire Guiding etc.